Clubs always need to check that their club imports have gone through successfully
If your Club Import file has successfully imported, you will see an onscreen Result Summary table (see image below).
ALWAYS click on the excel icon 

 to download a local copy of the Results Summary for each import (see image below).  It is important to note that this information will no longer be available after you leave this screen and the support team do not have access this this information.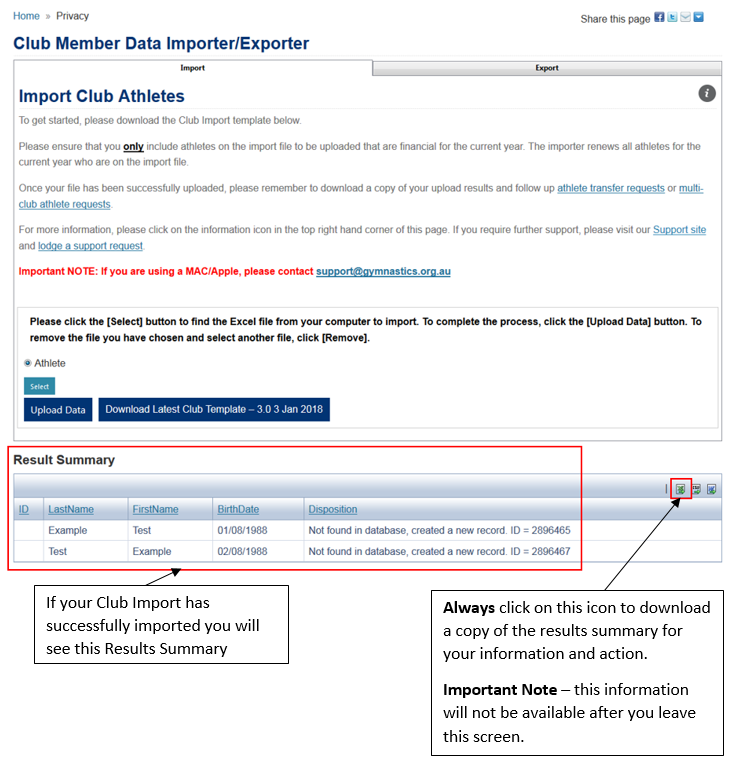 It is really important for Clubs to review this downloaded copy of each Club Import's Results Summary as it provides:
A confirmation of Athletes who have been successfully updated

A confirmation of Athletes have been newly created

Alerts Clubs to Athletes who require the Club to submit either a Transfer or Multi-Club Athlete request (please note that this is not an automated process)
Please note Athletes who are blank and the importer has taken no action due duplicate records in the database for this Athlete.  These athletes need to be followed up manually by the Club.
Need more help?  Please lodge a support request.
Back to the Getting Started as a Club Administrator information page