Thank you for visiting the Fundamental Gymnastics Coaching - Mentor Sessions information page.

Background
By visiting this page, there is an assumption that you have commenced your coaching journey having enrolled into the new Fundamental Gymnastics Coaching program.
There is also an assumption that you have;
completed the first module Welcome to Gymnastics Coaching - Introduction

commenced the second module Fundamental Gymnastics Coaching Course

and do not have access to a qualified Club Coach Educator to sign off your On the Job Training Workbook
While we hope in time all clubs will be able to train a CCE role, for those clubs who won't initially have a CCE, an alternate pathway is available for participants. This involves trainee coaches attending a series of six virtual mentoring sessions delivered by a member of the National Panel of Fundamental Gymnastics Coach Mentors (available after 1 June 2023).
Applicants in this position will still require access to a qualified supervisor to supervise trainee coaches while they are coaching, as they do under the current framework. The core difference opting for this virtual mentoring model is the reduced cost per coach, and virtual delivery instead of face-to-face delivery, compared to the existing coach education framework.
The 6 Mentoring Sessions
Explore philosophies, roles, responsibilities

Who you coach

Where you coach

What you coach

How you coach

How you improve.
Each session runs for approximately 1hr and 30mins.
How to enrol
1. Access the
Training Library
by clicking the Bookshelf icon on the left-hand menu bar.

2. Locate the
Fundamentals Gymnastics Coaching - Mentoring Sessions
course category and click
View Courses
.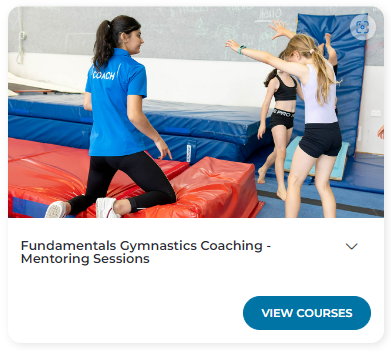 3. Locate the Fundamental Gymnastics Coaching - Mentoring Sessions course and click Enrol.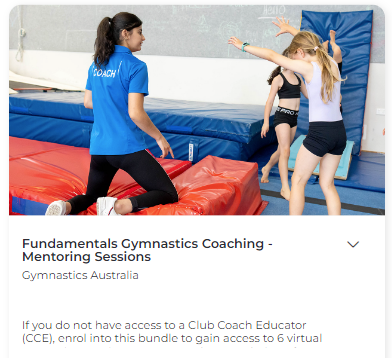 4. You can access the six virtual sessions through the My Training section of Flex.
5. Click View under the Fundamental Gymnastics Coaching - Mentoring Sessions course, and you will be able to see the six sessions.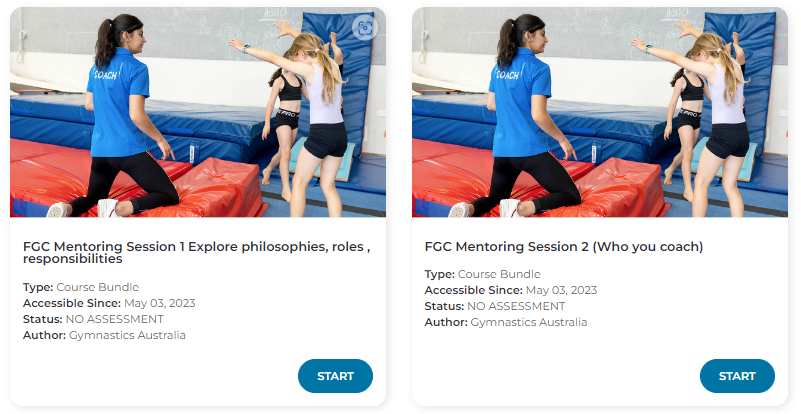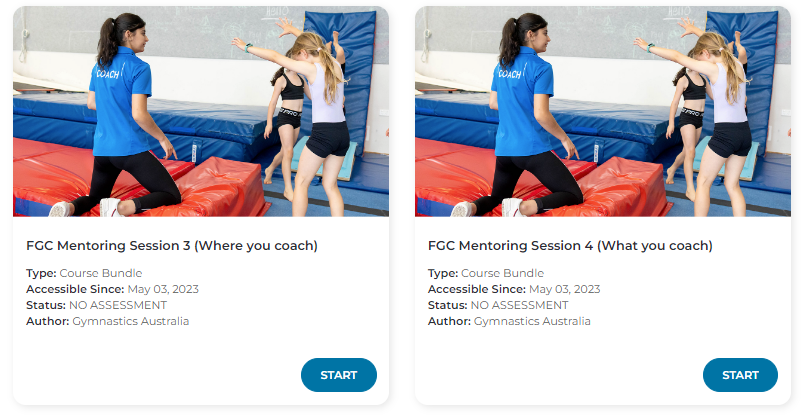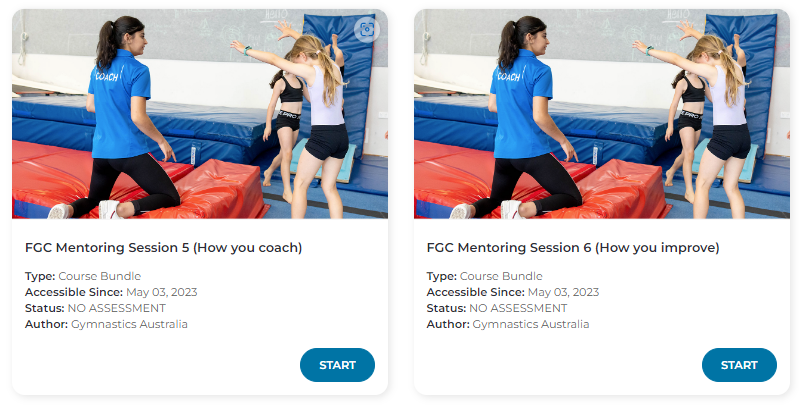 6. These 6 six sessions can be completed in any order, however, we do encourage participants to complete them in order. Virtual assessment availability may determine what order you complete these sessions in.
7. Having clicked Start on any of the sessions, you now need to book into a virtual assessment. To do this, head over to the Training Event calendar. You can access this by clicking the Calendar icon on the left-hand menu bar.

8. In the Course search bar, type "Fundamental". Then select "Fundamental Gymnastics Coaching - Mentoring Sessions" from the drop down selection.

6. You will then see a list of scheduled sessions. Click the arrow > to see the courses in the following month (Sessions to be released Mid July 2023)
7. Once you find the session you wish to attend, click Enrol. If a pop up appears, select Enrol again. You are now enrolled in this session.
8. To check which events you are enrolled into, click the My Enrolled Events toggle.
9. If you are unable to attend a course, you can un-enrol yourself from a session and re-enrol into a future course date. This can be done by selecting Un-enrol on the event session.