Technical members are required to be linked to a club in the database to ensure accreditation(s) (including WWCC or equivalent) are up to date, provide clubs with an accurate list of technical members for competition purposes (e.g. nominations for National Clubs Carnival), and enabling clubs to enrol and pay for coaches to complete education courses in FLEX.

To request being added or removed from a club relationship:
Login to your technical member profile via Gymnastics Online (GOL)
Go to the 'Relationships' tab, enter the ID number of the club you are requesting the relationship with. ID numbers can be found using the Club Finder

Select 'Coach/Judge' from the drop-down menu (this option will still need to be selected if you only hold one accreditation type but not the other)

Select either add or remove from the third dropdown menu and click 'Send request to club'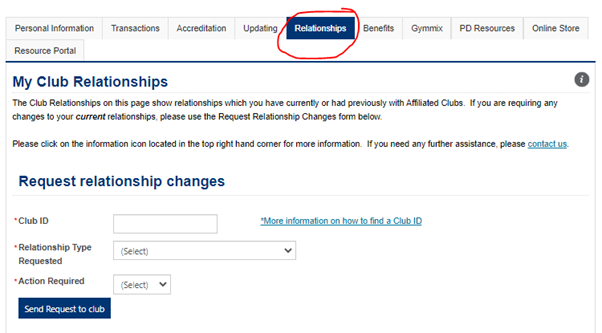 When a relationship is requested, clubs will receive an email and need to login to the club admin portal to action the technical member's details via the 'Tech Members' tab.
To remove a relationship, locate the member(s) name and relationship being requested to remove and click the 'Remove' button on the right.

To add a technical member to the club, complete the 'Add a new Coach, Judge or Technical Associate Member' form at the bottom of the page.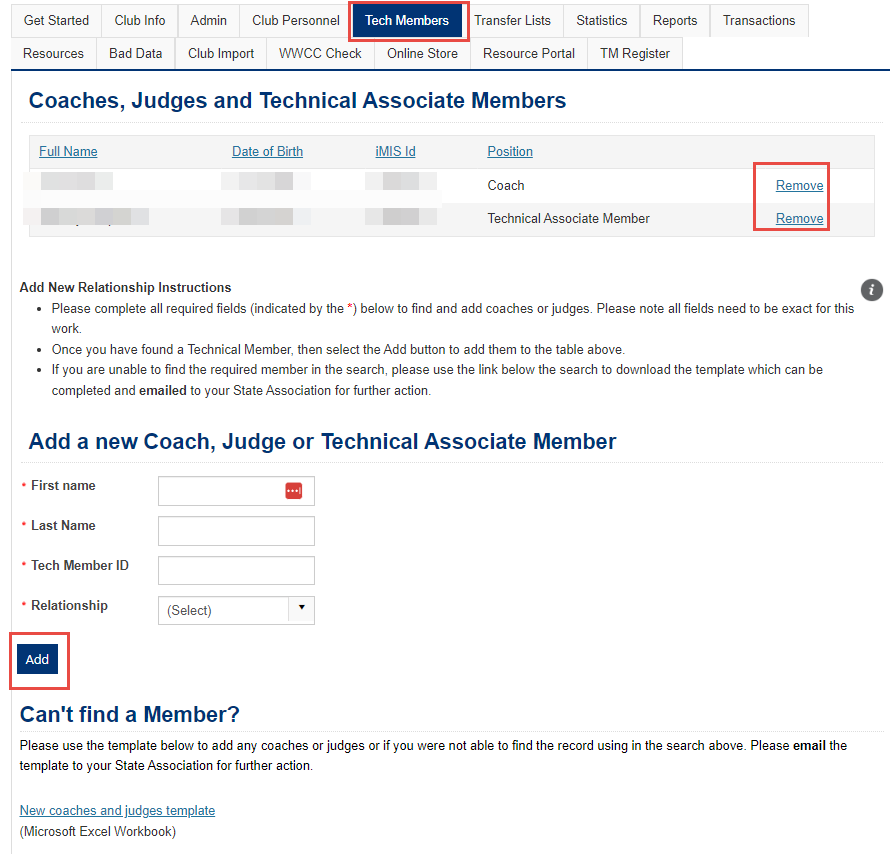 Please note:
If you receive a message 'Technical Member 0000000 is not active. Please contact your state', this means the member's profile has not been renewed for the current year and the member will need to contact their State/Territory Association for further information.

If you receive a message 'Could not find this member. Please use template below' this means either the member's details are entered incorrectly, or the member doesn't have a TECH/TAM account. If the member does not have a TECH/TAM account, please complete the excel document in the 'Can't find a Member' field at the bottom of the page

If you receive a message 'This person is not a technical or technical associate member. Please try again' this means the member either does not have a TECH/TAM account or has an OTHER profile type.
Clubs are able to check the list of technical member relationship requests by selecting 'W. TECH Members request to be a member' from the dropdown menu under the 'Reports' tab.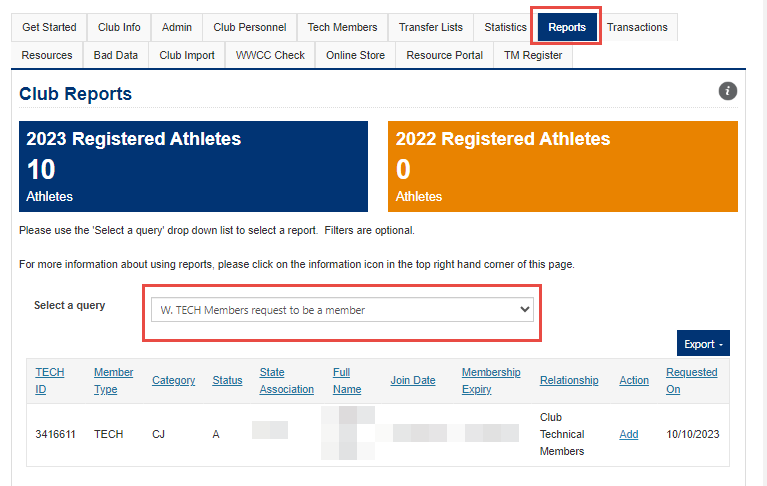 Need more help? Please lodge a support request.